Loggia dei Lanzi
The Loggia dei Lanzi, also called the Loggia della Signoria, is an open arcaded loggia in the southeast corner of the Piazza della Signoria adjoining the west wing of the Uffizi Gallery. It consists of three wide arches open to the Piazza Signoria, and one arch opened to the Piazza degli Uffizi. The arches rest on clustered pilasters with Corinthian capitals.

The name comes from the reign of Grand Duke Cosimo I, when it was used to house his formidable landsknechts (In Italian: "Lanzichenecchi", corrupted to Lanzi), or German mercenary pikeman (although by some accounts the guards were Swiss). After the construction of the Uffizi at the rear of the Loggia, the Loggia's roof was modified by Bernardo Buontalenti and became a terrace from which the Medici could watch ceremonies in the piazza.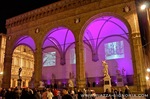 On the façade of the Loggia, below the parapet, are trefoils with allegorical figures of the four cardinal virtues (Fortitude, Temperance, Justice and Prudence) by Agnolo Gaddi. Their blue enamelled background is the work of Leonardo, a monk, while the golden stars were painted by Lorenzo de' Bicci. The vault, composed of semicircles, was done by the Florentine Antonio de' Pucci. On the steps of the Loggia are the Medici Lions - two marble statues of lions that are both a long standing symbol of Florence as well as Medici power. One is from Roman antiquity and the other was sculpted by Flaminio Vacca in 1598. Can you tell which one is which?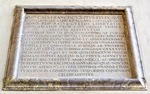 Inside the Loggia on the west wall there is a Latin inscription from 1750 commemorating the change of the Florentine calendar in 1749 to bring it into line with the Roman calendar. The Florentine calendar historically began on March 25th, instead of January 1st.

For more on the individual sculptures inside the loggia see Sculptures of Piazza Signoria
comments powered by

Disqus